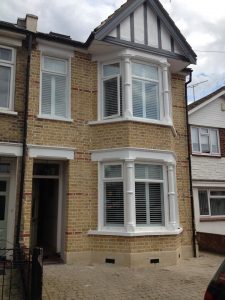 Our Victorian 3 bed semi detached house built circa 1875 was a dream purchase. We knew it had some problems but had no idea the whole house was riddled with dampness caused by years of inappropriate building methods.
We spent thousands of pounds trying to rectify the problems. 'Damp Proofing companies' sold us useless damp proof courses, and as usual, re rendered over cracks with cement and gypsum plasters .These methods never solved the problems and the dampness always returned, usually as winter approached. We were at our wits end and unable to decorate.
Michael Foley AssocRICS, an experienced and qualified building surveying damp expert, came highly recommended. He surveyed the whole of the building from the rooftops down to the bottom of the drains- in the pouring rain.
After assessing the building he used specialist equipment including a Thermal Imaging Camera, which displayed potential dampness and verified it by taking masonry samples from within the wall and testing them with a Calcium Carbide meter to gain their true moisture content.
This was followed up by a very detailed report, commenting on every aspect of the property and recommendations to rectify.
We were able to employ builders recommended by Michael, who were qualified and experienced to carry out the works which involved carefully removing the cracked cement render and re pointing the brickwork using correct hot lime mortar, which is breathable and flexible.
Our home was literally transformed and became dry and breathable, with the dampness not returning for the first time in 15 years. We feel so happy living in our healthy home. We are astounded by the changes and we cannot recommend Michael enough. A true professional!
Tiffany & Jeremy  Baxter
If your house or flat  is cold and damp and you would like us to help turn it into a dry, warm and healthy home, please feel free to email us via the  Contact page –